Participant
As anyone in DH knows, to be a good teacher, one must be a perpetual student! Scroll down to see my teaching experience, where I translate newly-honed skills into workshops and consultations.
Below are some recent events where I've enjoyed learning about DH topics/skills ranging from Python to privacy.
Mozilla Open Science Leadership Summit: Toronto, Canada (link)
Participant in three-day summit with scientists and programmers to discuss open science tools and practices and ways of fostering open science collaboration.
Django Girls NYC 2015: New York, NY (link)
Participant in two-day bootcamp python-framework Django led for women by women. Here I am looking serious.
Theorizing the Web 2015: New York, NY (link)
I theorized with Twitter about Theorizing the Web during two day TTW15 conference. It certainly led to a new strategy for teaching digital skills (at least for me)!
Privacy in the Age of Dragnet Surveillance: What You Need to Know to Protect Your Rights Online: Graduate Center
Alison Macrina of the Library Freedom Project and Kade Crockford of the ACLU of Massachusetts talked to us about digital surveillance and privacy tools.  The image above is Alison's Faraday Cage, a special device for blocking cellphone signals when anonymity is a necessity.
DIY
In addition to attending events, I make use of both friends and strangers when it comes to getting under the hood of the Internet. Recent humble successes include the Twitterbot @CodeSplain made with @jojokarlin @library_sarah @kellyblanchat @psmyth01 and @emisshula. @Codesplain uses python scripts to automate language that draws attention to ways NOT to speak to women working in tech.
Additionally, I recently created my first javascript hook (check it), and quickly graduated to successfully eliciting help for a more complicated javascript function on StackOverflow (look!) even though my more tech-savvy friends tell me they're too intimidated to use this crowdsourced tech support forum. (Perhaps my tweet for help, helped!) I am working my way through CodeAcademy's tutorials and Evan Misshula is converting me into an Emacs user.  Learning new ways to ask for help (and give back) is my number one DH skill, and the one that is constantly evolving.

DH technical training and workshops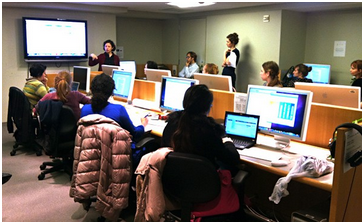 As digital fellow, I teach or assist Graduate Center workshops on a variety of digital skills such as WordPress, Twitter and Social Media, citation tools, data management, project management, mapping, or using tools such as Gephi, Python, Voyant, Mallet, Github. Assisting has sometimes also meant learning, such as when working with Gephi-whiz Micki Kaufman, Emacs-buff Evan Misshula, Python-pro Patrick Smyth, or jack-of-all-trades Keith Miyake.
Since its inception in Fall 2013, I have assisted with the DH Praxis class, a two-semester course which provides theoretical framework for DH in the first semester, and supports the making of collaborative DH projects in the second semester. Additionally, I host office hours to advise DH Praxis students on outreach and research for their digital project.s Only in its second year, the DH Praxis class has already produced notable student projects, such as DH Box, a "digital humanities laboratory in the cloud" and winner of a $59,792 NEH Digital Start Up Grant (link). Current praxis projects include: Tandem, Cuny Cast, Digital HUAC and Fashion Index.
Additionally, I advise Graduate Center and CUNY faculty on how to create digital spaces for their classroom and using digital tools to facilitate student collaboration. Recent digital classroom spaces have included a private course WordPress site for President Chase Robinson and Professor Anna Akasoy's "Violence in Islamic History" on The CUNY Academic Commons and several CommentPress annotation sites for undergraduate literature courses at Baruch College on Blogs@Baruch.

Some upcoming DH conferences/events I'm organizing
TBA   2015
Digital Initiatives, Graduate Center, CUNY: New York, NY
Co-organizer: Free and Open Source Software and the University
May   2015
MEDIA RES #1 : English Department, Graduate Center, CUNY: New York, NY
Co-organizer and moderator of panel presenting graduate student work in DH literary projects.