Digital Tools and Communication
Social Paper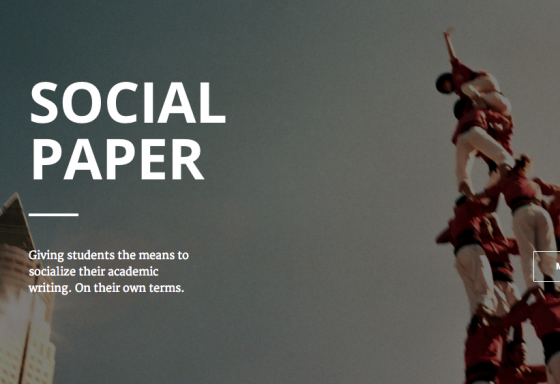 I developed the idea for Social Paper in Steve Brier's Fall 2012 Interactive Technology and Pedagogy Core Course based on ideas from Kathleen Fitzpatrick's Planned Obsolescence and my own frustration with current practices and technologies of sharing student writing and feedback. Thus, I outlined a plan for an online, non-proprietary writing environment where students, at any point in the writing process, could publicize their work for feedback from a select group of peers.
With the help of Matthew K. Gold and Jennifer Stoops, Social Paper turned into a free and open source software project funded by a 2014 NEH Digital Start-Up Grant, with advisement support from Kathleen Fitzpatrick, Director of Scholarly Communication at the Modern Language Association, and Edward Finn, Founding Director, Center for Science and the Imagination, Arizona State University.  Currently, I lead Social Paper development by working with developers Christian Wach and Boone Gorges, user interface expert Samantha Raddatz, the GC Digital Fellows, and the continual collaboration with Matthew K. Gold and Jennifer Stoops. To read more about social paper, please go to on.socialpaper.gc.cuny.edu.
Annotation Project at Baruch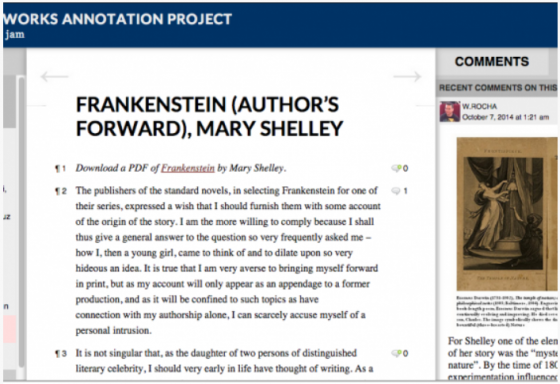 I served as a facilitator and consultant for The Annotation Project at Baruch College, an ongoing program which utilizes digital annotation tools in undergraduate literature courses to enable students to collaboratively annotate reading assignments.  In addition to creating the digital infrastructure and advising on further program development, I work closely with Annotation Project's Director Cheryl Smith to gather student and teacher feedback with the goal of further developing digital tools to meet specific pedagogical needs.

Islamic History Commons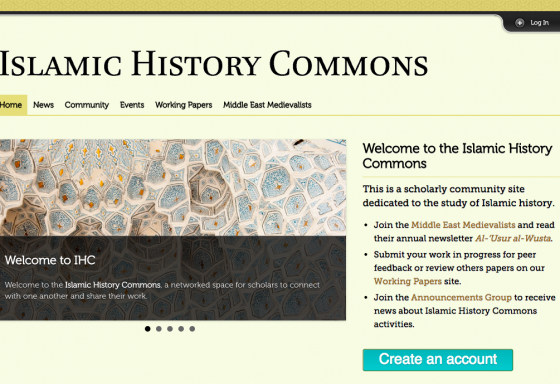 I work as a project manager and community coordinator the Islamic History Commons (IHC), a networked space for scholars to connect with one another and share their work. This project is a collaboration with Graduate Center President Chase Robinson, Associate Professor of English & Digital Humanities Matthew K. Gold, and Maxim Romanov, postdoctoral associate at the Department of Classics and the Perseus Digital Library Project, Tufts University. The IHC community is made up principally by scholars who conduct research and teach on the Middle East (North Africa, the Middle East and Islamic Central Asia) from ca. 600 to ca. 1500 CE, although contributions from scholars working with Islamic sources on the non-Islamic world will also be accommodated. In addition, IHC hosts the Middle East Medievalists, a scholarly organization devoted to fostering communication among individuals and organizations with an interest in the study of the medieval Middle East. As with many of these projects, developer Christian Wach played a critical role in IHC's technical development.

Mellon Interdisciplinary Science Studies Public Humanities Video Project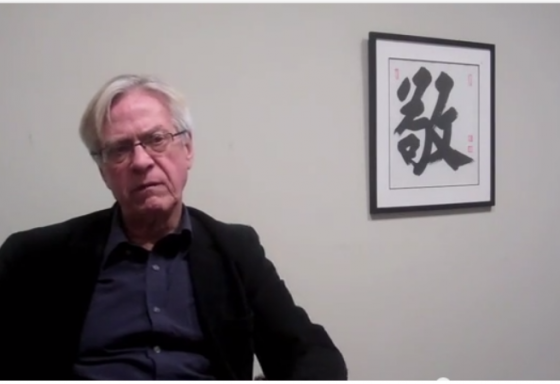 During my first year as a Mellon Interdisciplinary Science Studies Fellow, I developed and carried out a video project that interviewed professors and students about their interest in science studies, as well as documented the groups events. I carried out video interviews and talks from start to finish with Jesse Prinz, Sarah Franklin, Linda Smith, Ashley Dawson, Peter Godfrey-Smith, Alva Noe, Bryan Turner, Eben Kirksey and more. As of April 2015, the videos have received 9,979 views. The full video series can be found here.

 Syllabus Repository Project (SRP)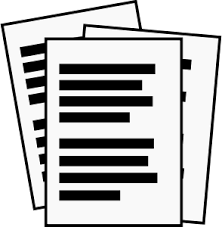 I collaborated with Graduate Center Ph.D. student Laura Kane and the Graduate Center Digital Fellows in the early stages of developing an online syllabus repository as a plugin for The CUNY Academic Commons. The Syllabus Repository Project will enable CUNY Graduate Center students to share and archive their teaching syllabi as well as search through other syllabi within The CUNY Academic Commons. We believe the SRP will help strengthen community around the practice of teaching, as well as provide rich data for identifying trends in graduate student teaching. Additionally, we will release SRP as a free and open source plugin so that other graduate center communities might create a similar repository.
Lost and Found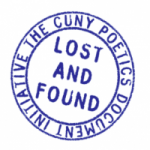 Currently I am working with Lost and Found: The CUNY Poetics Document Initiative to help imagine ways they might use and develop digital tools for archive research, editorial communication, publishing management, and possibly, forms of digital publishing that will maintain Lost and Found's unique philosophy. Spearheaded by poet and Graduate Center English Professor Ammiel Alcalay, Lost & Found "publishes unexpected, genre-bending works by important 20th century writers. Unearthed from personal and institutional archives in the United States and abroad, these unique projects are edited by doctoral students at the Graduate Center, CUNY. Aimed at a general readership, these chapbooks expose and provoke new archival research and connections."
Middle East Medievalists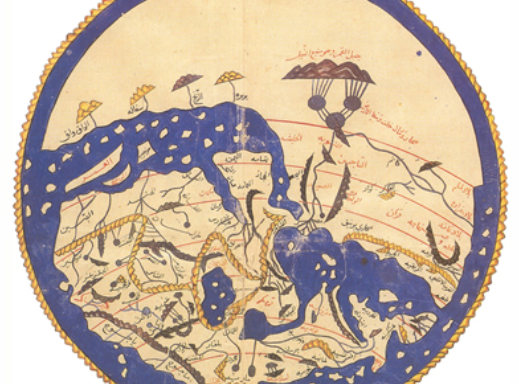 I worked as a project manager with Middle East Medievalists President Matthew S. Gordon and Secretary Antoine Borrut to create a digital space for the Middle East Medievalists and their journal Al-`Usur al-Wusta on the Islamic History Commons. Part of this project required working closely with developer Christian Wach as he oversaw the integration of their membership database within the Islamic History Commons network through CiviCRM, a web-based, open source, Constituent Relationship Management (CRM) software developed for non-profit and other civic-sector organizations.

Website development
I've built countless websites and mockups for scholars, academic departments and organizations. Often these projects require not only web skills, but a sensitive understanding of an organization's structure, communication needs and interaction with the public. These sites include:
 Office of the Provost website redesign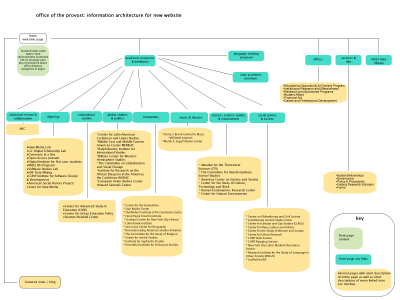 This project aims to update the Office of the Provost webpage by reorganizing its information architecture, improving its usability for students, faculty and staff, and adding more visual components.
Graduate Center President Chase Robinson's professional webpage (link)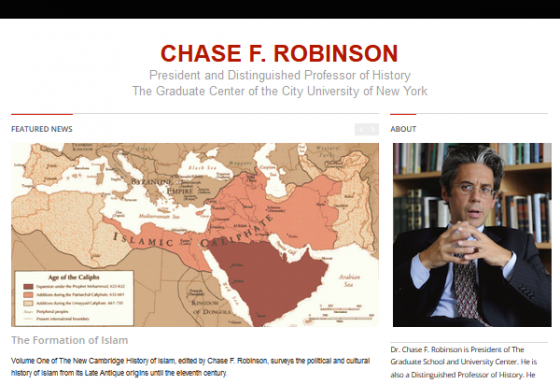 Graduate Center Fellowships and Funding Website (link)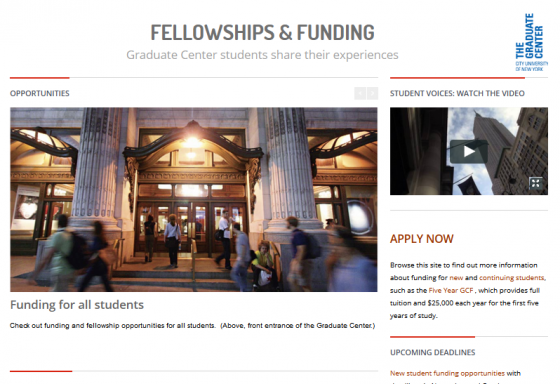 I worked closely with Provost Louise Lennihan to develop The CUNY Academic Commons Fellowship and Funding website with the purpose of offering current, incoming and potential students clear information about funding opportunities and student experience at the Graduate Center at CUNY. The project involved collaboration with executive officers across the Graduate Center's different academic departments, as well as photographers, videographers and
Great Works program at Baruch College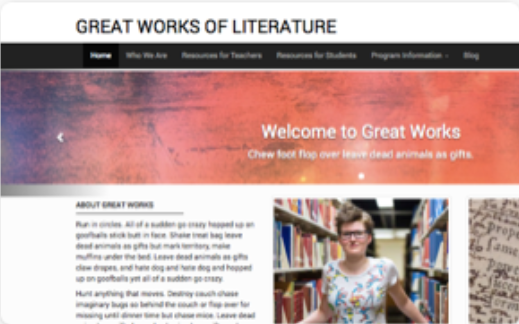 Mellon Interdisciplinary Science Studies (link)